The following functionality is provided as part of the OrangeHRM Core module. This module is available as standard in all OrangeHRM deployments.
Save As option to save/copy reports with runtime filters
With this release, you can now save a copy of the reports you have created with your defined filters. This new feature helps you save and reuse your preferred filters with ease. You can also save your report as private. With the 'Private' option enabled, only the creator of the report will be able to access the report. The 'Save As' button for each report can be located next to the 'Generate' button.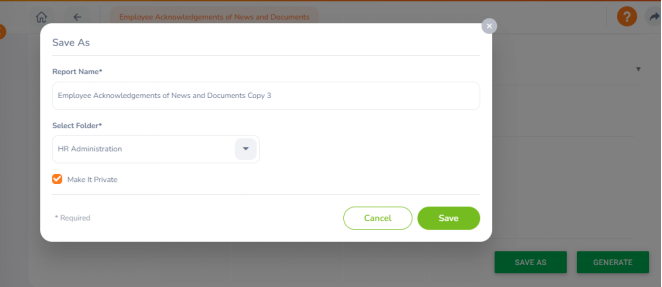 Cross module reporting with Leave Requests
With the newly introduced "Employee Informational" report type, you can define a report to capture a combination of employee data and leave request information pertaining to that employee within a single report..
The very useful 'Leave Request' report can be located under Reports and Analytics > Employee Management.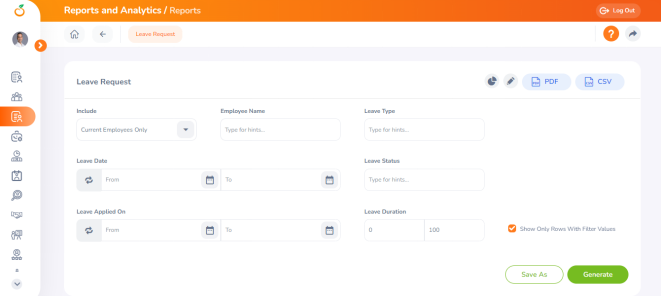 As a further extension to our reporting capabilities, several new leave related reports have been included as standard in this release with the option to display these as charts in the dashboard if needed e.g., Current Years Leave Taken by Department, leave scheduled each month, leave taken on each calendar month over time etc.
These reports can be found under the following reporting sections:
Employee Management
Leave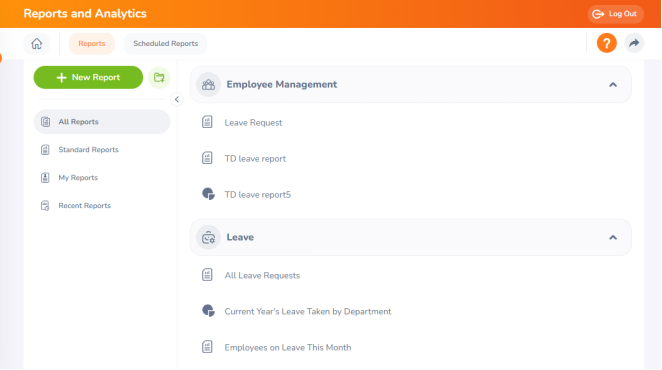 Ability to Fill the empty rows upon Scheduling reports (send reports as CSV)
A number of additional standard reports have been added to the scheduled reports section as follows:
Project Time Report
Employee Project Time Report
Headcount Report (Per Subunit)
Pay Hours Report
Leave Entitlements and Usage Report
Export Attendance to CSV
With the new ability to now schedule the 'Export Attendance to CSV' report, you can:
Add Employee ID to the new 'Attendance Export" report
Save the added filters
When scheduling a report in CSV format, there is an option now present allowing you to 'fill empty rows'.
Show reports sorted within folders
All the reports within the Reports and Analytics module are sorted alphabetically in the relevant folders. The sorting being done alphabetically in ascending order based on the report name ensures that required reports can be accessed quickly and easily.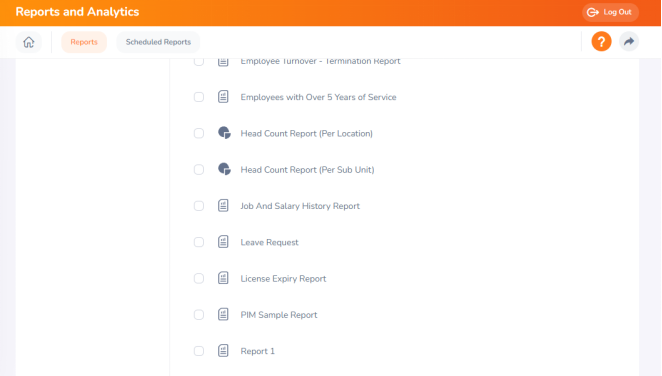 Display Employee Active Status in PIM Reports
Within the Employee Management reports, it is now possible to include a new field to display the Active Status of each employee.