A company may keep track of certain aspects regarding the tasks or activities carried out by an employee. This may or may not be mentioned in the appraisal as it may not be a direct factor that determines the performance of an employee. A supervisor or an HR professional may conduct such activities to groom or nurture employees to reach the next level. For example, A supervisor notices a unique attribute in relation to one of his/her employees and decides to keep track of it with the intention of mentioning it during an upcoming appraisal so that the employee can be groomed to become the next manager.
Certain systems may not be able to facilitate the tracking and management of such specific aspects but with OrangeHRM a supervisor or an HR professional can easily track employee-specific attributes and qualities that can be used as reference points to develop the employee. The user can create a tracker for an employee and add logs to the created tracker to capture and retain all this key information.
To access this feature go to Performance -> Employee Trackers -> Tracker List. This will bring you to the following screen:
The Tracker list can be sort by the Tracker Name, Employee, Added Date, and Modified Date.

Step 1: The user can choose a tracker from the tracker list mentioned in the above screen and click the preferred tracker. Upon clicking the tracker, the following screen is displayed.

Step 2: Click the 'Add button to add a log to the selected tracker.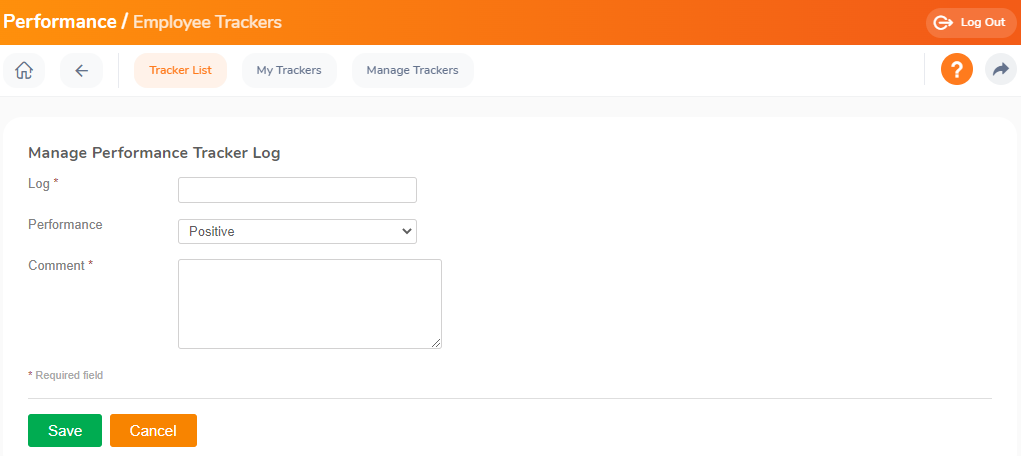 Step 3: Complete the following fields.
Field
Description
Log
A name for the log can be provided.
Performance

It can be marked as either 'Positive' or 'Negative' from the dropdown.

If you wish to enable additional feedback types in the performance trackers, please get in touch with our support team at goldsupport@orangehrm.com.

Comment
Add a brief description.
Step 5: Click 'Save' after completing the above-mentioned fields.