Assigning Leave for employees within an organization is considered to be a normal and necessary task. For various reasons, employees can take leave. Nevertheless, there are situations where workers may be unable to apply for a leave-in advance because of an emergency, or sometimes a director might decide to assign leave to a number of employees in return for a job well done. For example, in a particular region, a certain group of workers is unable to apply for leave through the normal process as they are impacted due to power outages. Additionally, a company's managers or HR professionals may face the problem of not being able to assign leave in bulk to their workers, perhaps due to limitations of the existing system. With OrangeHRM's 'Bulk Assign' feature, managers / HR professionals are now able to filter and assign leave in bulk for a certain set of employees.
This feature is only available to an HR Admin (Global and Regional) and ESS-Supervisor. To assign leave in bulk, select Leave -> Bulk Assign. The Bulk Assign screen will appear as follows: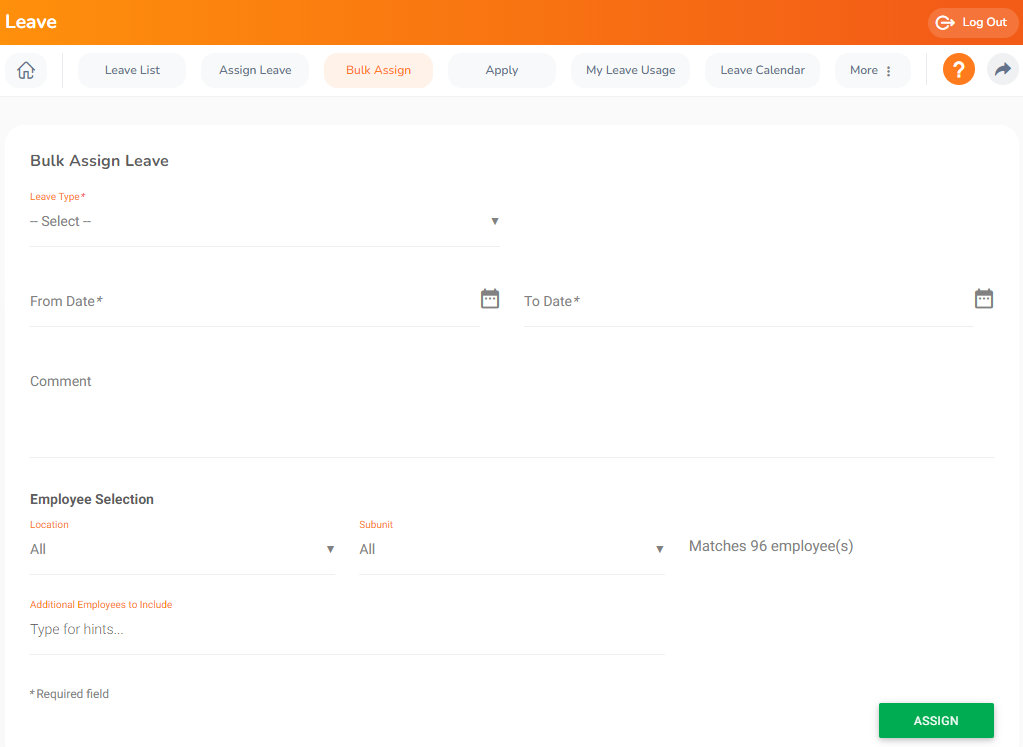 Step 1 – Complete the following fields.
| | |
| --- | --- |
| Field | Description |
| Leave Type | The user can select the desired leave type from the dropdown. The user has the option of choosing from the pre-defined leave types. |
| From/To | Select the date(s) the leave should be assigned. If the leave is assigned for one day, then the dates for both 'From' and 'To' should be the same. |
| Comment | Add a comment. (Optional) |
| Location/Subunit | Select employees based on the location |
| Subunit | Select employees based on the department(s) |
| Additional Employees to include | The user can add other employees that don't fall under the selected group. |
Step 2 – Click 'Assign' after defining the above fields. A confirmation screen appears with the affected employee list and status as follows.