In many cases, individuals may need to follow several different calendars to keep track of everything going on within a team. When planning team activities on a calendar, it is common practice to think a month ahead of the current time.
But sometimes it makes sense to step back and see the bigger picture. Other times, you may need to focus on a single week or even a single day. To cater to these specific requirements, OrangeHRM provides a "Leave Calendar", where you can view all the leave requests in one single calendar.
Administrators, ESS-Employees, and ESS-Supervisors all have access to the leave calendar. To view the leave calendar, select Leave -> Leave Calendar and the Leave Calendar screen is shown.
Refer to the following article to learn how the leave calendar configuration works.
User Role Privileges
Global

Admin:

can view the monthly leave calendar of all employees based in

all locations/regions of the organization.
Regional Admin:

can view the monthly leave calendar of all employees based on all the

assigned

locations/regions of the organization.
ESS-Supervisor:

can view his personal weekly, monthly, and yearly leave calendar and that of his/her

subordinates.
ESS-Employee:

can view his

personal

monthly leave calendar. Also, the system allows showing leave requests from other employees in the same sub-unit.
When applying for leave, an employee can use the Leave calendar to check the availability of other peers in their division so that leave overlaps with other employees can be avoided. This calendar helps avoid multiple leave requests on the same day in the same department.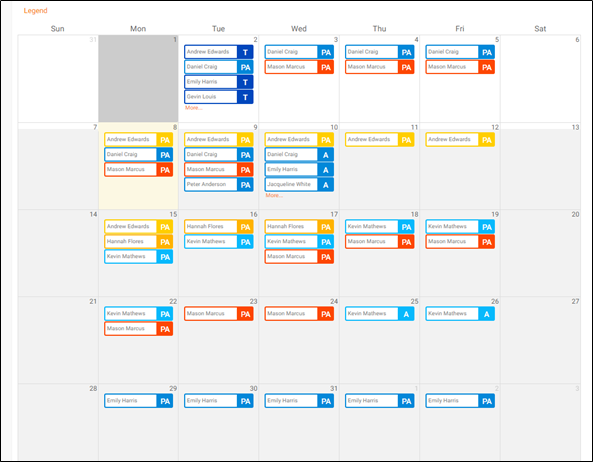 Search/Filter Leave Calendar:
Admin or Supervisors can filter or search the leave calendar using the below criteria options which are located at the top of the leave calendar. Select your criteria and click View.

| | |
| --- | --- |
| Search Criteria | Description |
| Employee name | Search the calendar for a specific employee. Multiple employees can be selected at once. |
| Subunit | Search based on the department. Multiple subunits can be selected. |
| Year/Month | Select the year and month the leave calendar should display. |
| Leave Type | Search based on leave types. You can select multiple leave types. |
| Leave Status | Search based on Leave status. You can select multiple leave statuses. |
| Employment status | Search based on employment status |
| Location | Search based on location |
| Include past employees | Select to include terminated employees |
| Make Filter Default | Save the above filter selection as the default search which will persist every time the user accesses the employee list. |
When selecting the "Reset" within the Filter, the search section filter results will be reset and the list will adopt the default view.
The calendar will show the monthly view by default but can be changed to the yearly and weekly view if required. Please note that the yearly view can be generated for a single employee only.

To see details regarding the specific leave request, the admin can hover over the desired leave request to see further details.