A company may open up new vacancies and as a result, many candidates may apply for those vacancies. However, only a few candidates get hired for the vacant job positions while other candidates are rejected. Sometimes, as a common practice, HR personnel may tend to archive the best candidates even though they are no available job vacancies at a particular time.
HR carries out such activities to maintain a pool of good candidates for future reference. However, HR personnel can only archive this information for a few months and afterward, they should delete it because it is not legal to maintain the data of another for a very long time. With the help of OrangeHRM, a company can completely delete candidate records. This action can only be conducted by the admin but in order to perform this action, the 'Maintenance' module must be purchased.
Go to Employee Management -> More-> Purge Records -> Candidate Records.
The 'Purge Candidate Records' screen is displayed as follows.

Step 1 – Verify the Admin Password. The 'Purge Candidate Records' Screen is displayed as follows.

Step 2 – Select the desired vacancy from the dropdown. Then the details of the candidate are shown.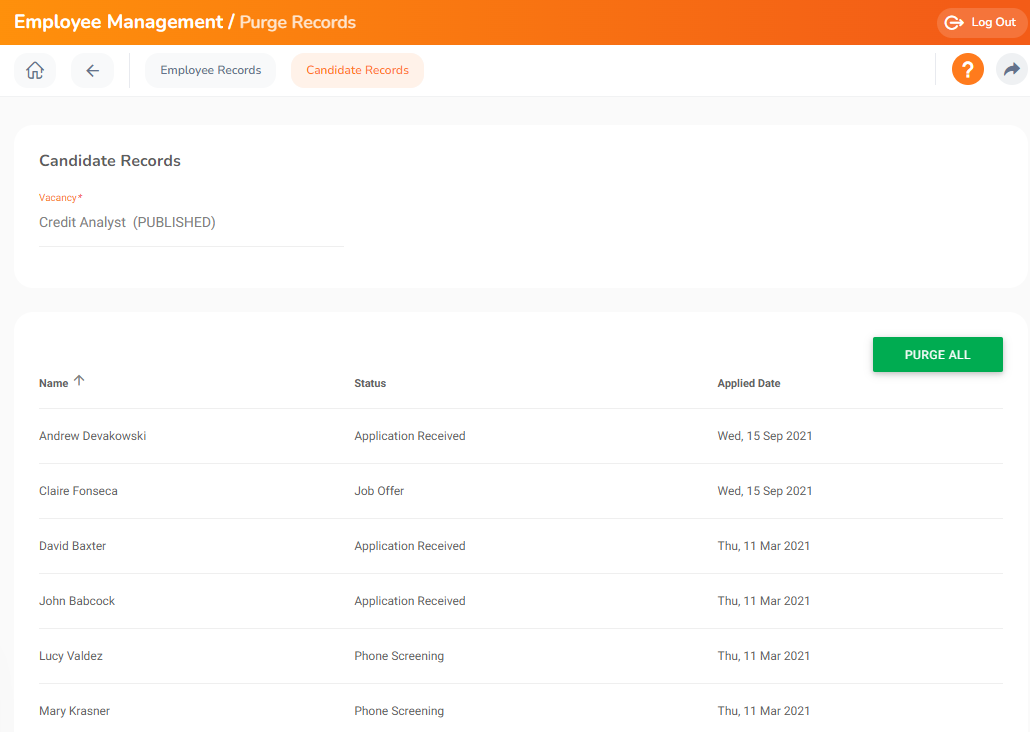 Step 3 – Click 'Purge All'. Upon clicking 'Purge All' the confirmation page is displayed.
Step 4 – Click 'Yes, Purge' to completely delete all the candidate records.