Quantifying the Request Management
Average Request Resolution Time Report
In this release, we have introduced a new report to view the Average Request Resolution Time for a given period. This report can significantly enhance the analytical capabilities and decision-making process within an organization. This report provides valuable insights into the efficiency and effectiveness of the request resolution process, allowing stakeholders to identify trends, assess performance, and make data-driven improvements. This report also provides drill-down capabilities. It allows users to navigate from summarized or high-level data down to more specific, lower-level data points.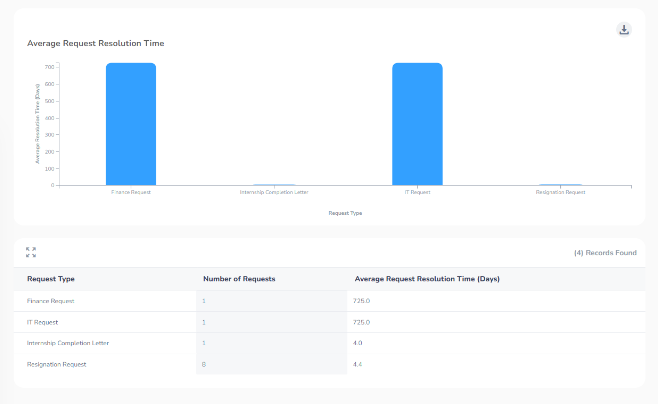 Comparison of Average Request Resolution Report
OrangeHRM also introduced another new report to view the Comparison of Average Request Resolution on a monthly basis with Each Other request type. This report brings significant value to an organization by providing comprehensive insights into the efficiency and performance of different request types over time. This report empowers stakeholders to make data-driven decisions, optimize workflows, and enhance customer satisfaction.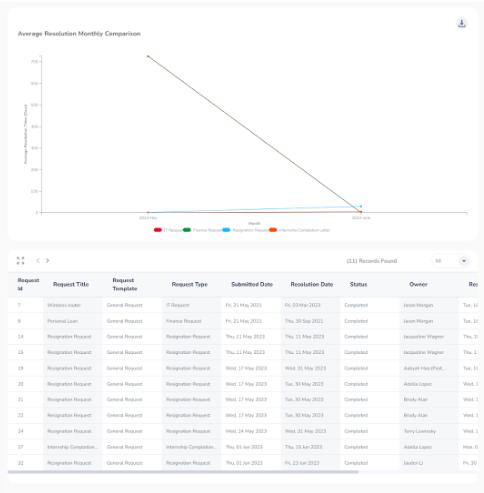 Access the Request Desk from the quick access in the Dashboard
In OrangeHRM, users are provided with a convenient and efficient way to access the Request Desk functionality by adding a shortcut in the Quick Access widget which is available in the Dashboard. The availability of the Request Desk in the Quick Access menu streamlines the user experience, allowing them to promptly and easily manage their requests and tasks without navigating through multiple screens or menus.
Primary request owner can re-route approvers of an individual request if the approver is not present/available
The ability to re-route approvers is a powerful feature that empowers the primary owner to ensure timely approval when the designated approver is absent or unavailable to approve the request on time. This feature enhances the approval process's adaptability, optimizing workflows and avoiding delays due to the unavailability of the employee responsible for approval.
Click on edit and now you can change the Level approvers if the existing approver is not present/available. Only Request Owner can change the approver to re-route if approver is not available and Request Owners can't change the approver once the approver has given the approval.
Reorder and rename the sub-menus of the module
Reordering and renaming the sub-menus of the Request Desk module brings several benefits to the organization, enhancing the user experience. By customizing the sub-menu structure, organizations can create a more intuitive and user-friendly environment for handling various types of requests.