In our ongoing commitment to providing comprehensive and user-friendly HRM solutions, we are thrilled to introduce an exciting enhancement to OrangeHRM's Online Training Module. With the addition of a new user interface screen, administrators can now easily visualize the progress and assessment results of each employee's course attempts, making training management more transparent and efficient than ever before.
Requiring employee progress in courses and assessments is crucial for their growth for several reasons:
Skill Enhancement: Engaging in courses and assessments helps employees acquire new skills and knowledge relevant to their roles, enabling them to perform their tasks more effectively.

Adaptation to Change: In rapidly evolving industries, continuous learning ensures that employees remain up-to-date with the latest trends, technologies, and best practices.

Professional Development: Completing courses and assessments can lead to certifications or accreditations, bolstering an employee's professional profile and career advancement opportunities.

Increased Productivity: Well-trained employees are generally more efficient and productive, as they can complete tasks with greater proficiency and accuracy.

Problem Solving and Innovation: Learning opportunities encourage critical thinking and creativity, enabling employees to approach challenges with fresh perspectives.

Employee Engagement and Satisfaction: Providing learning opportunities demonstrates a commitment to employee growth, which can boost morale and job satisfaction.

Competitive Advantage: A skilled and knowledgeable workforce can give a company a competitive edge in the marketplace, allowing it to innovate and adapt more readily.

Meeting Organizational Goals: Employees who continuously improve their skills are better equipped to contribute to achieving company objectives.
Overall, requiring employee progress in courses and assessments not only benefits individual employees in terms of personal and professional growth but also contributes to the overall success and sustainability of the organization. It's a strategic investment in the workforce that can lead to improved performance, innovation, and competitiveness.
Go to More - > Training - > Online Assessment Courses - > Employee Assessment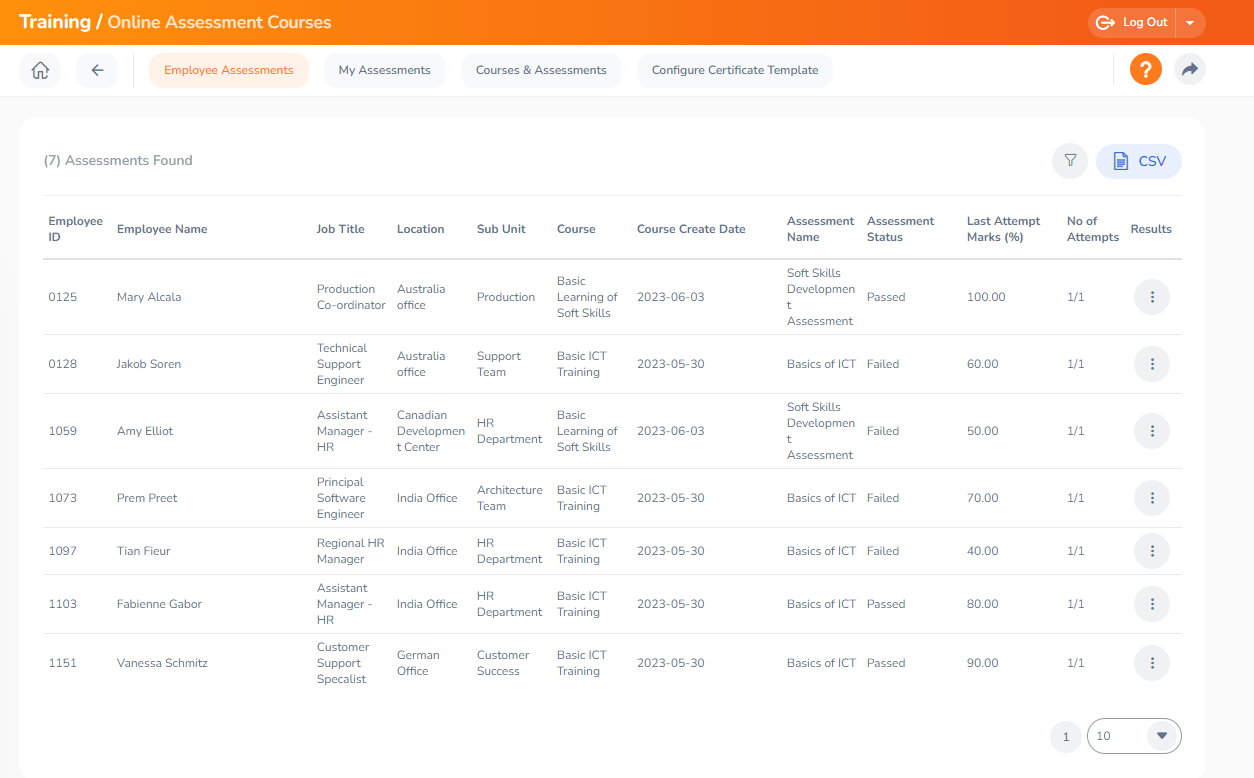 Step 1 - Once clicking the 'Results' the system shows the scores against the number of attempts.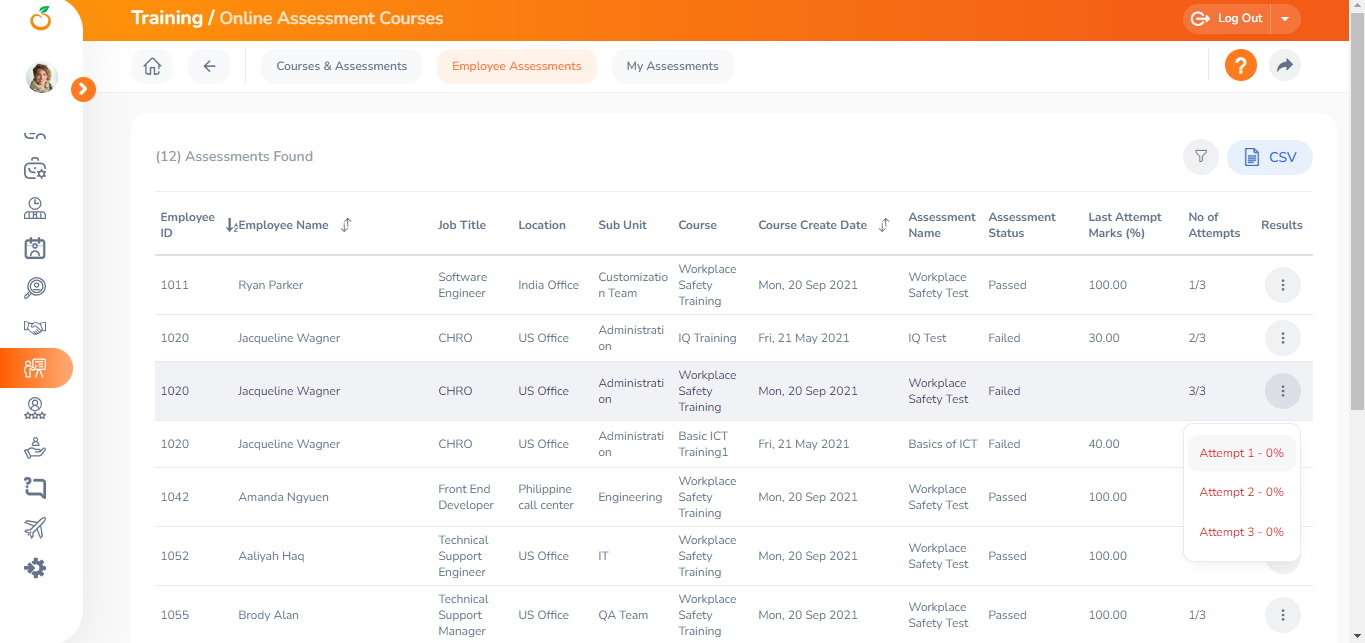 Filter the employee assessment course results
| | |
| --- | --- |
| Field Name | Description |
| Employees | Search by employee name |
| Job Titles | Search by employee Job Titles |
| Locations | Search by Locations |
| Sub Units | Search by sub-units |
| Training course | Search by training course name |
| Assessment Status | Search by assessment status. Ex: Passed/Completed, Failed, N/A |
| Created Date From to To | Search by course-created period |
Step 2- To download the employee assessment results click the CSV option.