The HR admin can define the reporting method between an ESS-Employee and an ESS-Supervisor. "Direct" and "Indirect" Reporting Methods are already pre-defined. To define the reporting method, select PIM> Configuration> Reporting Methods from the Main Menu. The Reporting Methods Screen will appear.

Step 1 - Click 'Add'   button in the Custom Reporting Method Screen. The Add Reporting Method Screen will appear.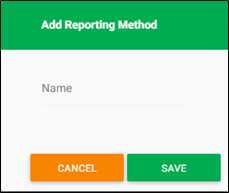 Step 2 – Give a name for the reporting method and Click Save.