Refer to this article if your version is above 7.4.1
The administrators are able to define the projects that they are handling in the system managed by the company. To add a project, select Time> Project Info>Projects.
The Project Screen appears as below.
Step 1 - Click 'Add' button in the Screen. The Add Project Screen will appear as below.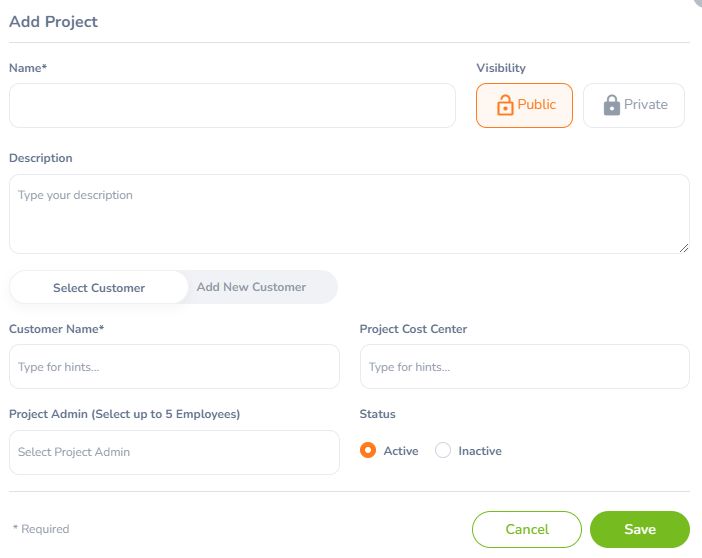 Step 2 – Complete the following fields.
Field

Description

Name

Name of the project

Visibility

There are two options available as "Private" and "public".

Public - are selectable for all employees
Private - are selectable only for project members

Select New customer/Add new customer

Select an existing client or add a new one.

Customer name

Select the client if it's an existing one or add the name of the new client

Customer Description

Applicable only if it's a new client

Project Cost Center

Include the Cost center as defined Add Cost Center Article.

Project Admin

Once added, the employee will be able to change project related information.

Status

Mark the Project Active or not.

If a user is added as a project admin, they also can change the project status.

Description

Describe the project.
Making Projects Active-Inactive
Step 3 – Click Save. An activities section will appear below the project information.
Step 4 – You can add activities to the project one by one or copy from an existing project. To add one by one, click the Add button. Add project activity screen will appear.
Step 5 – Give a name and click save.
Step 6 – To copy activities from another project, click Copy from.
Step 7 – Select the project you want to copy from. A list of activities for the selected project will appear.
Step 8 – Select/Deselect the act ivies you want to add and click Copy.
Add Project Members
Upon saving the project info, the system shows another tab to add the project members.
Step 1 - Go to "Members" tab, click "Add Project Members"
Step 4 - Click Save