Delta and Snapshot reporting for duty!
OrangeHRM has introduced a new licensed module within Version 6.5 for Enhanced Reporting. This module provides an extended set of reporting capabilities as follows:
Delta reporting - Monitor PIM records for changes to specific employee fields, producing a report outlining all employee records updated within a specific date range. Primarily used when synchronizing employee changes to external systems such as payroll or IT.

Snapshot reporting – Produce reports on employee data as of a historical date. This is particularly useful in providing headcount, job or salary specific data to tie-in with financial quarterly or year-end reports.
Please contact OrangeHRM for details of how to license Enhanced Reporting.
Delta Report
One of the critical challenges facing many organizations is the synchronization of data among multiple enterprise systems – the most common of which is frequently payroll. Regional administrators, global administrators, IT staff, payroll administrators and employees themselves can all update employee information so how do you determine what records have changed and what information needs to be synchronized to downstream systems?
OrangeHRM has introduced the concept of delta reports. Working with OrangeHRM, you can define the employee fields you wish to track for updates. Delta Reports then provides the ability to list all employee records whose tracked fields were updated within a specific time period.
For example, imagine you track updates to base salary. On May 1st, the base salary is updated from $80,000 to $82,000 with immediate effect.
At the end of the month, the Payroll administrator can run a delta report for changes made during the month of May and the delta report includes details of the above record. The payroll administrator will, therefore, know that this is the only record to be updated within the payroll system.
More information on how to use it can be found in Delta Report Article.
Snapshot Report
Tracking the Job and Salary information is a critical part of employee management and the history of this information is essential for tracking when certain information is changed.
For example, the location of employee Rachel Alexander was changed on April 17, 2019, from Bradford to Edinburgh. As of 16-Apr-2019, the location was Bradford.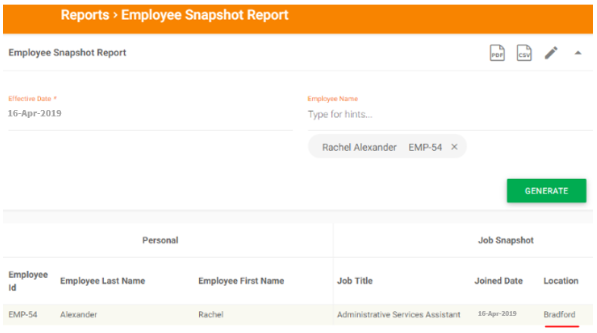 Note how the Effective Date is set to 16-Apr-2019 to see the report "as of" that date. As of 17-Apr-2019, the location was changed from Bradford to Edinburgh.