The Leave Management module is already available from OrangeHRM as a separately licensed module. The following functionality is available to all clients who license this module.
Quickly view all leave requests pending approval 
When a supervisor views their dashboard, the top right corner provides a summary of the number of leave requests pending their approval. They can select the icon and view the details of all pending requests. 
OrangeHRM has now added a link to enable them to quickly view - and in turn, approve - all pending leave requests. Simply by clicking the ( 

 ) icon, the system navigates the supervisor immediately to the leave list, displaying all pending leave requests.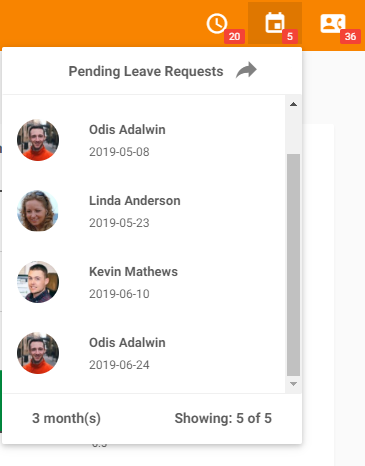 Leave approval reminder email notification
OrangeHRM provides reminder notifications, if the action has not already been taken to approve a leave request. The notification is sent to the 'Default Supervisor' of the employee and the period of time to wait before generating the notification is configurable. It is possible to add any subscriber as the notification receive end. Users can set how many days before the leave request notification should be sent to the subscriber from the system. Now, It is easy to see the holidays and weekends as the font colors of those are shown in a lighter color. One email per one leave request is sent without combining several leave requests pending for the same supervisor.
The following is an example of an email sent to Maria Campbell (supervisor of Abbie Campbell).