Performance Module
The Performance module is already available from OrangeHRM as a separately licensed module. The following new functionality is available to all clients who have licensed this module.
Improvements to Goals/OKRs
With this release, significant UI modifications have been made to the goals/OKRs section of the performance module to further improve the user experience. Now, Goals and Key results can be prioritized upon creation using color-coded priority levels and Quick updates for goal progress and status can be effected immediately from the goal list view.
In addition, we have added two new goal status options: "On Hold" and "Not Achieved" so now any goal can be marked according to these new statuses. The icon displayed in the level column of the goal list can now be used to easily distinguish between individual and company goals.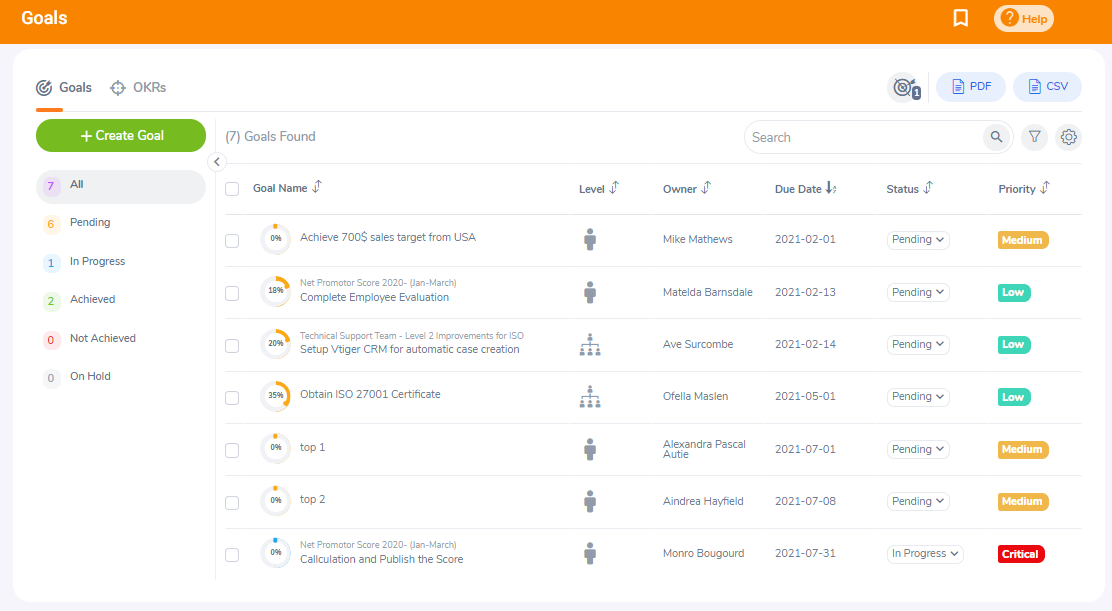 Goal and OKRs accomplishments can now be progressed beyond 100% to recognize and highlight those employees who have exceeded expectations. With this enhancement, supervisors and managers may now immediately see which of their subordinates'/employees have exceeded the targets or OKRs that were set for them.


With this latest version, you can now access the goals/OKRs description directly from the goal/OKRs list screen. These descriptions can be accessed directly from the goal list by selecting the "i" icon next to each Goal or Objective name.

In certain organizations, the employee and supervisor may meet at the beginning of the year to discuss goals for the current year. Based on that discussion, the employee can define goals for themselves in the system and submit them for approval.
As a supervisor with several subordinates reporting directly to you, it would prove quite challenging and time-consuming to approve all goals individually for your subordinates.
In order to overcome this challenge, An admin or supervisor user can now bulk approve goals that employees or subordinates have created directly from the goal list.

A new Date-Based email notification called 'Goal Due Date Notification' can be used to set up automated goal due to date email reminders. When subscribers receive this email notification, they can simply click the link in the email body area to be directed to the appropriate goal which they can then action.