Mobile Module
The Mobile App module is already available from OrangeHRM as a separately licensed module. The following enhanced functionality is available to all clients who license this module.
Improvements to the Corporate Directory
This new release allows access to the Corporate Directory via the OrangeHRM mobile application. Information relating to your coworkers can be verified from your mobile device based on the rights granted by your HR administrator. For example, you may use the OrangeHRM mobile application to make a phone call, send a text message, or send an email. In addition, should you wish to access information about a particular colleague, the application easily facilitates this via the search filters. Using these search filters, you can quickly define the correct set of criteria to retrieve the required information.
When an employee is on leave for the current date, an "On Leave" indication will be displayed for that person detailing the number of hours on leave for the day. This will only be displayed if one of the following criteria is met in the OrangeHRM application.
Leave has to be either in Pending Approval, Scheduled, or Taken state

Even if the employee being viewed is on leave, the "On Leave" indication will not be displayed if it is restricted as per the Leave Calendar Configuration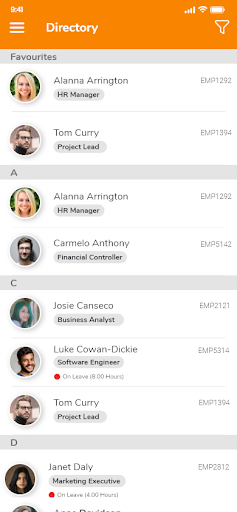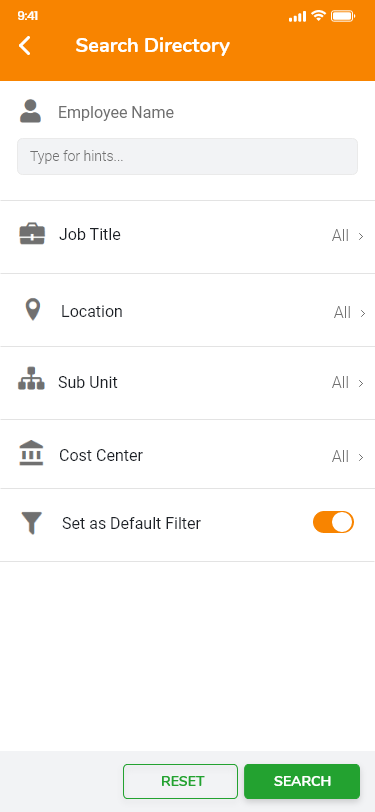 Additions to the Attendance Pay Policy (if licensed)
If you have licensed the OrangeHRM attendance pay policy function, when checking an employee's attendance records using the mobile application, you may now verify the pay policy that person is assigned to. As an admin or supervisor user, the Mobile Application allows you to review the attendance records of an employee or subordinate based on the Pay policies they have been assigned.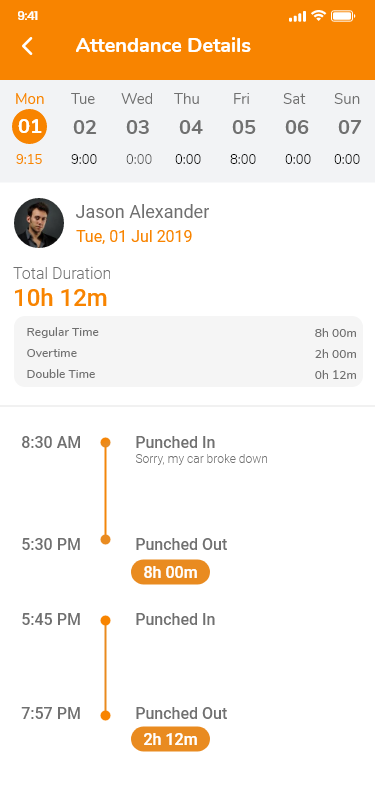 As an employee, you can check your attendance records to see the total number of hours you have spent on assigned tasks and projects based on the pay policies that you have been assigned. The pay policy section is captured separately within the application and displays the time that you have spent based on the pay policy.