The OrangeHRM platform allows you to easily obtain employee information via the corporate directory depending on what permissions have been granted by HR/Admin to allow employees to view the contact information of other workers. In this section, as an employee, you can perform the following actions:
View Employees through the directory 
Filter employees based on the available criteria options
Ability to mark the employee as a "favorite'
Call, text, or send an email to any employee (If enabled by the HR admin)
Step 1:  When the user logs in to the application, go to More -> Directory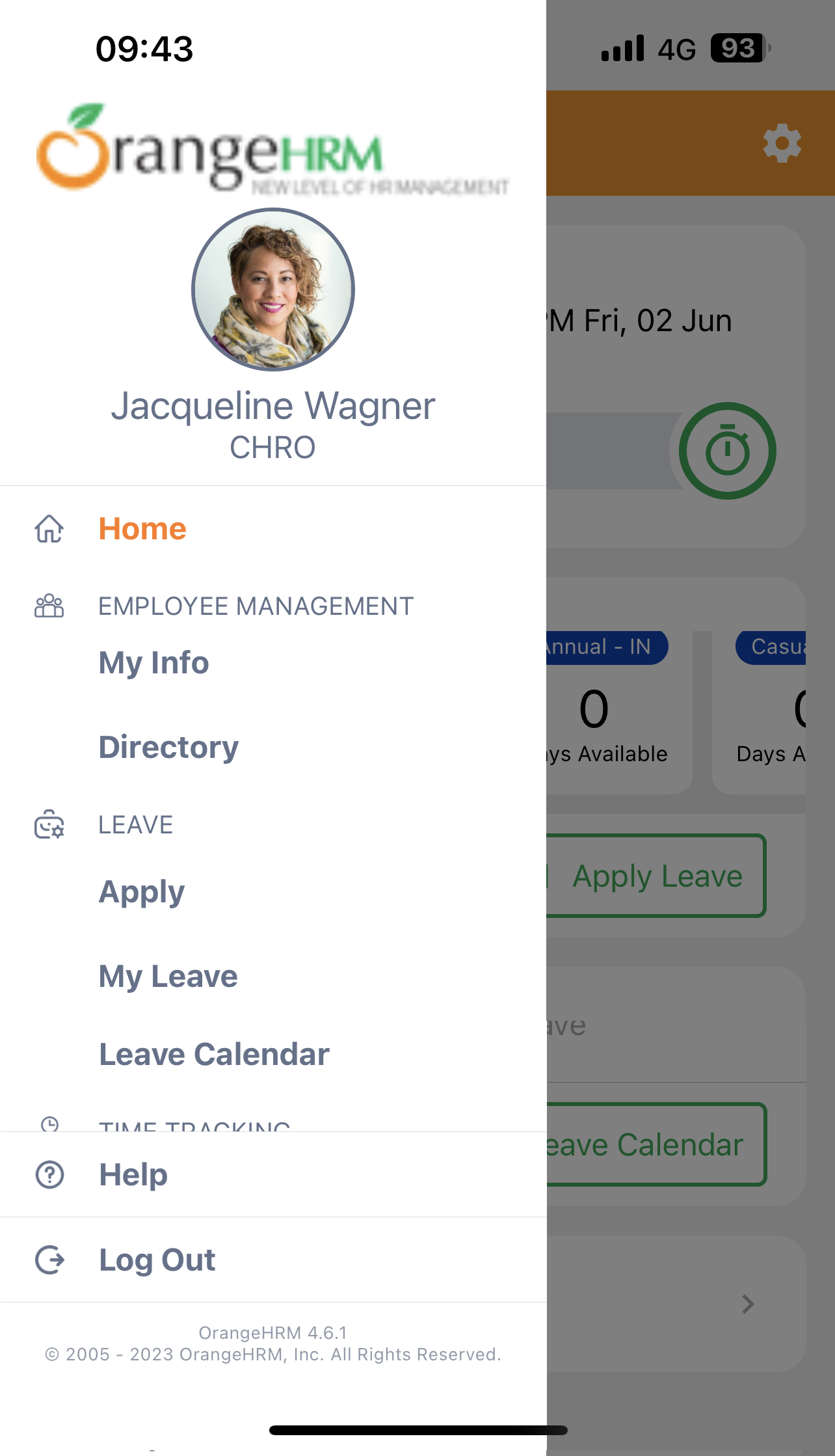 This section displays the corresponding employee's name, employee id, and job title. If the employee is on leave for the current date, the "On Leave" indication will be displayed for that employee along with the number of hours they are due to be on leave for the day.

Leave must be either in Pending Approval, Scheduled or Taken state in order to be displayed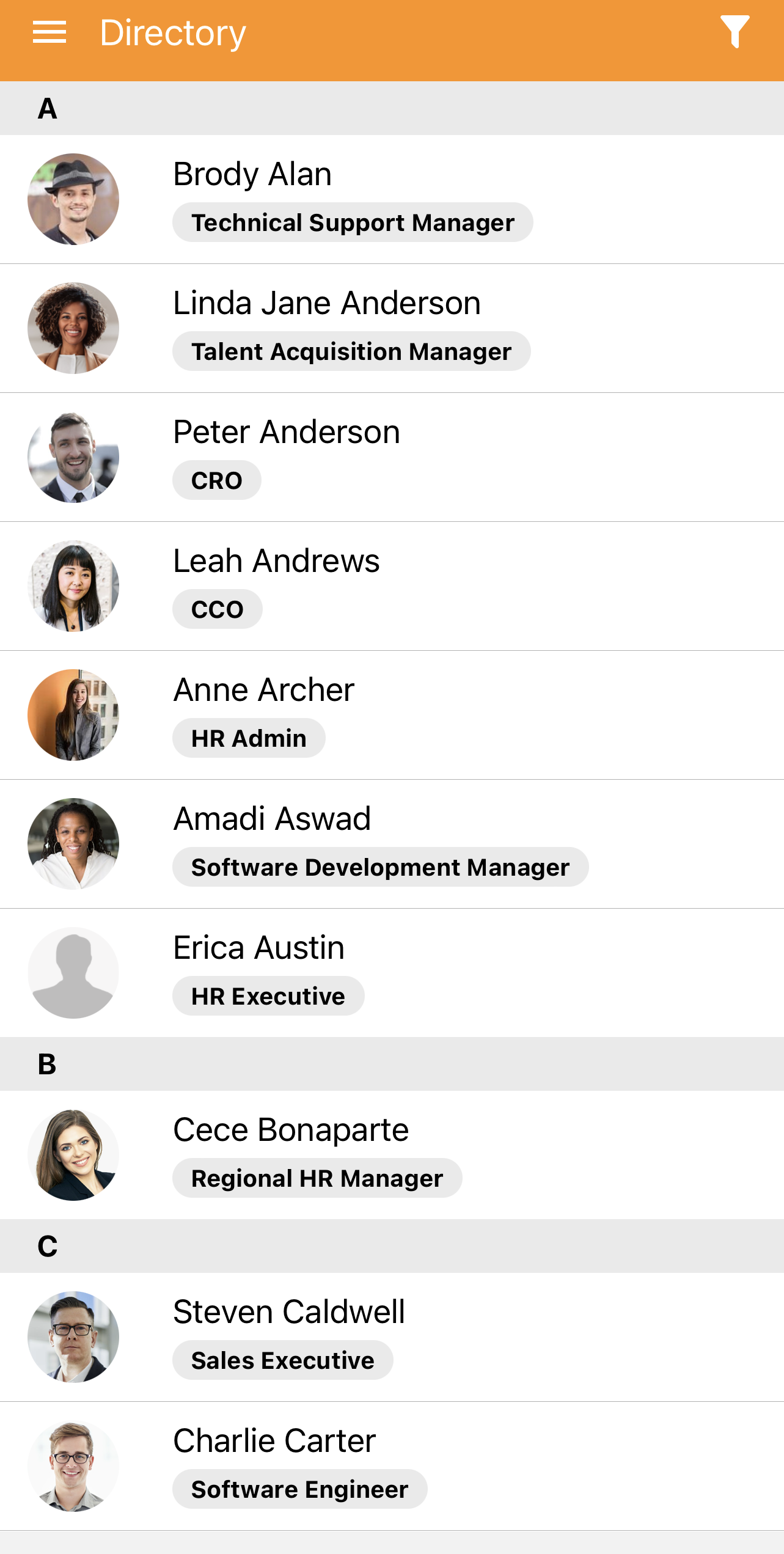 Filter Employee
By clicking the filter icon you can set the required set of filters and search for the employees to visualize their details. 
Field
Description
Employee Name

Users can select an individual employee by typing their name or the employee ID.

Job Title

Ability to select one Job Title or all Job titles at once via the "All" dropdown option.

Location

Ability to select an individual country, location or all locations at once via the "All" dropdown option. 
When selecting a country, underlying locations that belong to the country will also be considered for the search.

Sub Unit

Ability to select one Sub Unit or all Sub Units at once via the "All" dropdown option.
When selecting a top-level subunit, all underlying subunits that belong to the top-level subunit will be considered for the search.

Cost Centre

Displayed only when the field is enabled.
Ability to select one Cost Center or all Cost Centers at once via the "All" dropdown option.

Set as Default Filter

User-defined filter definitions will be preserved if this option is enabled thus allowing each user to customize the directory list as per their own preference. Once this is toggled on, the existing filter combination will be saved and maintained for subsequent logins as a custom default filter.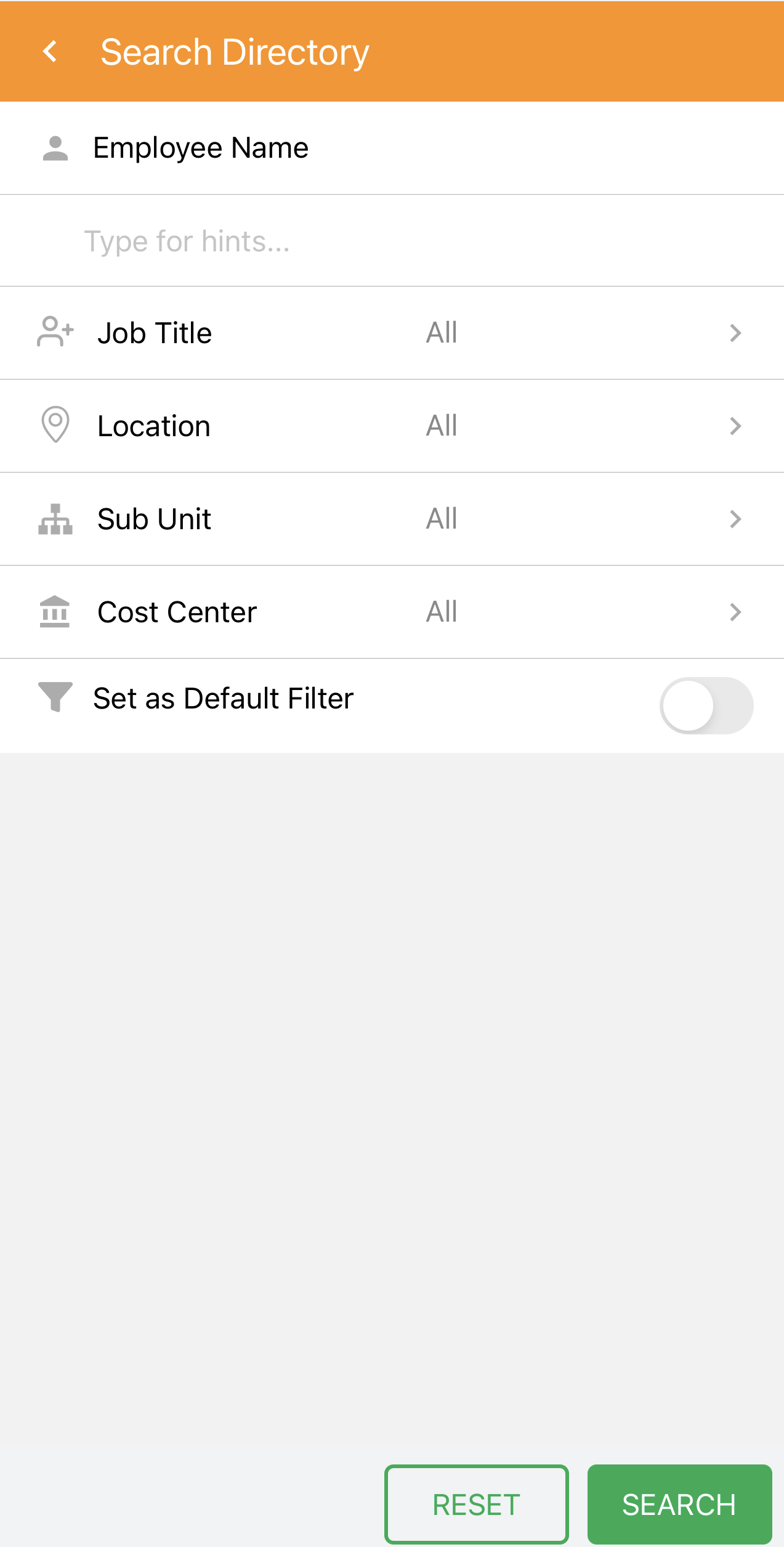 Step 2: Select any employee to see the details for that employee. 
The user will also have the ability to mark the employee as a "favorite" contact by enabling the star icon located in the top right corner. Tapping it again will remove the employee from the favorite contact list. 

Marking any employee as a "Favorite" means they will feature in the 'Favorites' group within the directory list.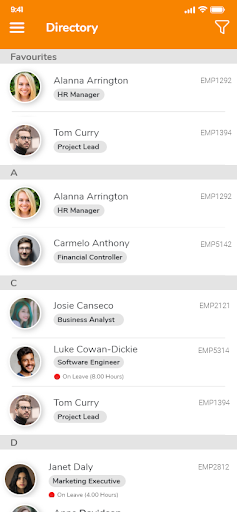 The following quick actions will be available on the details page:
Make a phone call by clicking the call icon 
Send a text message by clicking the text icon 
Send an Email by clicking the mail icon 
Go to the employee's LinkedIn Profile
Go to the employee's Facebook Profile
Go to the employee's Twitter Profile