Refer to this article if your version is below 7.4.1
A job title is the precise identification of a position within an organization that is usually accompanied by a job description that outlines the tasks and responsibilities associated with it. This function allows the Admin User to define the Job Titles of the organization with relevant information and add Job specifications or Job description documents. The Job Titles are listed in a specific location within the system for ease of access.
To see the List, Select Admin-> Job-> Manage Job Titles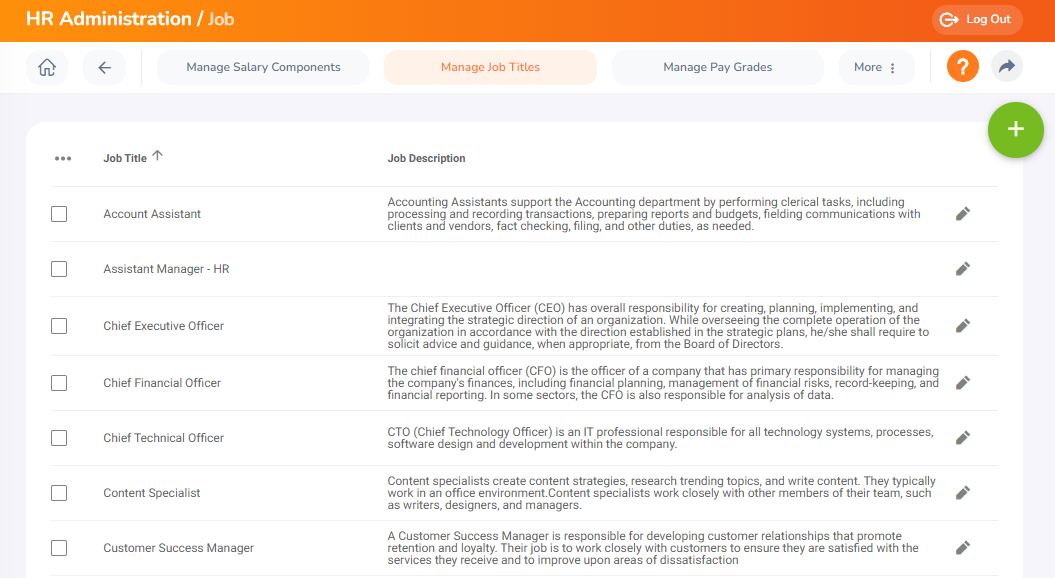 Step 1 – Click the 'Add' button on the Job Titles page. The add user role screen will appear.

Step 2 – Complete the following fields.
| | |
| --- | --- |
| Field | Description |
| Job Title | Name of the Job Title |
| Job Description | Details of the Job |
| Job Specification | Attach the Job specification document |
| Notes | Add notes |
Step 3 – Click 'Save'
Step 4 - To edit already created 'Job Title', click the edit icon.
When a job specification document is tied to a job title and that title has been obtained for any employee, you may download the job specification by navigating to that person's profile.