Refer to this article if your version is below 7.4.1
Employee attendance reports are a visual representation of the workers' attendance, absences, sick leave, and other activities over time. These attendance records may be printed or made available. The attendance, absence, and approved leaves of employees recorded in the attendance record can assist you in calculating hours and managing payroll as an employer.
Monitoring employees' attendance will also assist you in identifying when workers violate the company's attendance policies.
Through the OrangeHRM Attendance reports now it is possible to view the Employee Attendance data without any hassle.
Step 1: Go to Attendance > Employee Attendance

Step 2: Filter employee attendance sheets
Filter

Description

Pay Policy

Filter employee attendance sheets by selecting a specific pay policy

Pay period

Filter based on the Pay period

Employee Name

Filter Employee Attendance sheets for a specific employee

Subunit

Filter Employee Attendance sheets based on a specific subunit

Location

Filter Employee Attendance sheets based on a specific Location

Job Title

Filter Employee Attendance sheets based on a Job title

Employment Status

Filter Employee Attendance sheets based on an Employment Status

Supervisor Name

Filter Employee Attendance sheets for a specific supervisor

Include

Filter Employee Attendance based on current, past or current & past

employees
Upon selecting the suitable filters, the system automatically shows the results below. You can download the information to PDS and CSV formats.
Step 3: Click the Maximize icon.
By clicking this maximize icon you can see the employee attendance details on a full-size screen.

Clicking into any individual employee timesheet in the system will take you to that specific employee timesheet where you can see the detailed version of the employee attendance details.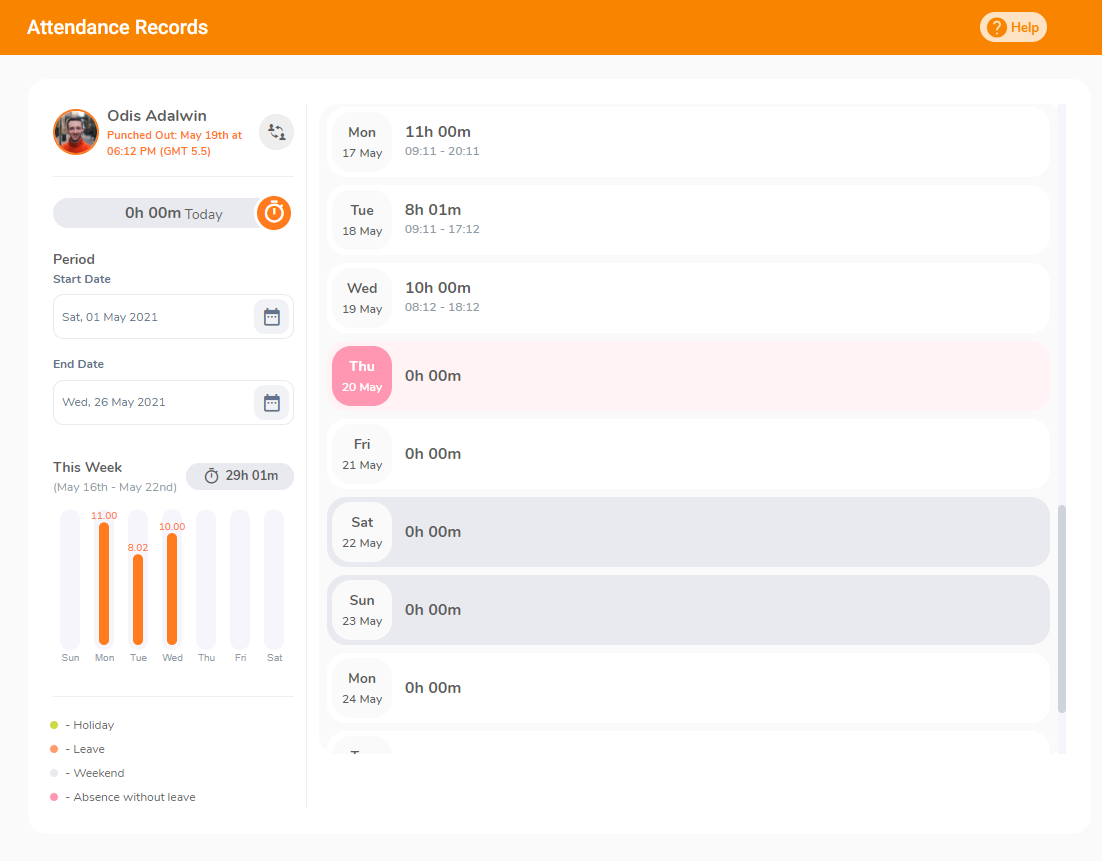 As an admin or a supervisor user, it is possible to correct the employee attendance data on behalf of the employee by selecting the date.
Step 4: Select the date and click the edit icon. Select the correct clock in/out time and it is possible to add comments by clicking the comment icon.


Step 5: Below the date and time you can see the geolocation of the user, This is captured as the location when the user logged in to the system.

Step 6: Users now have the ability to add a selfie at the point of login, and it is visible here when you toggle the picture icon.

In order to enable the geolocation and selfi-capturing please contact goldsupport@orangehrm.com
Step 7: By clicking the delete icon it is possible to delete the record and enter the clock in/out time.
Step 8: If there are multiple attendance records for a single day, by clicking the "+Add" icon, add the records.