Refer to this article if your version is below 7.4.1
A planned set of interrelated tasks to be executed over a fixed period and within certain costs and other limitations. Projects can be of two types:

A company initiated projects, for example, a marketing project to raise awareness regarding a product via social media.

A project was given by a customer. For example, a client requests to construct a house within a year.
Irrespective of the type of the project, a company needs to make the optimum use of available resources to meet the discussed outcome within a defined timeline. However, the most common issue for a company is to add customers to a system with the relevant and correct information. With the help of OrangeHRM, a company can now easily add customers with relevant and correct information. The user can enter details of the customers that can be used to define projects and project activities.
Go to Time Tracking -> More-> Activity Info -> Customers. Upon following this path' Customers' screen can be activated.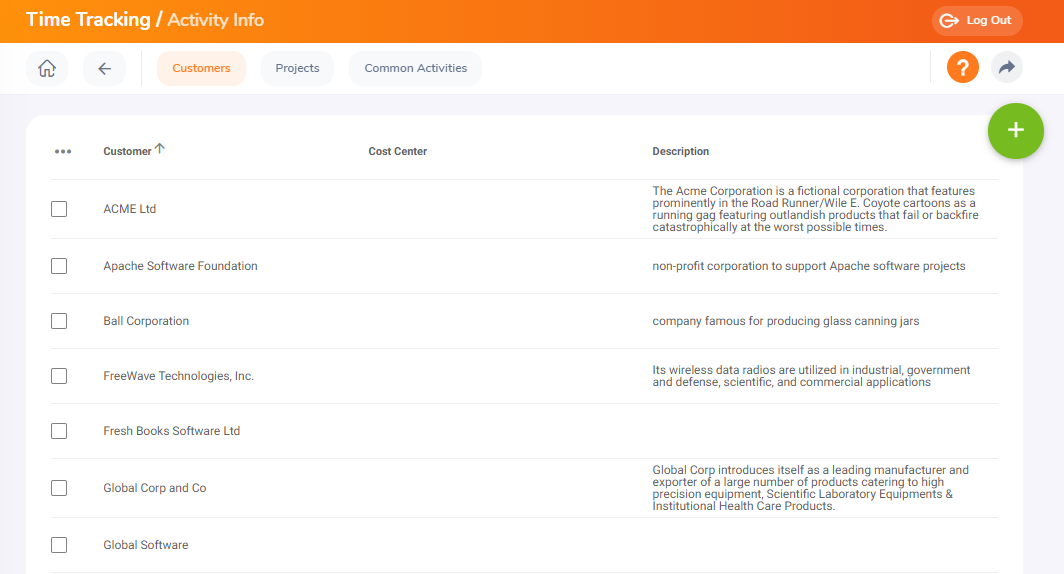 Step 1 - Click the 'Add' button on the above screen. Upon clicking this button 'Add Customer' screen is been triggered.
Step 2 – Complete the following fields to add a customer.
| | |
| --- | --- |
| Field | Description |
| Name | Name of the customer. |
| Customer Cost Centre | Allocate a cost center for the customer. |
| Description | A brief description. |
Step 3 – Click the 'Save' button. Upon clicking this button a customer is added to the list of customers in the 'Customers' screen.
Refer to the following :