User

Interface

Updates
We have released OrangeHRM 7.5 version, which features a new user-friendly interface that makes the system easy to use and operate. As part of the newly revamped user interface, we have introduced some module name changes as seen below. The admin module has been renamed to 'HR Administration', while the PIM module has been renamed to 'Employee Management'. The time module is now referred to as the 'Time Tracking' module. We have also transitioned some of the sub-modules previously located under the Admin and PIM modules to the Employee Management section, and some of the sub-sections are now located under "More" in the system.
In previous versions, the sub-sub-module option options were located beneath the main modules on the side navigation panel. Now, in Now, in our new modularized system, when you select a primary module option from the side navigation panel the system shows all the relevant submodules for that primary module along this top navigation bar.
For further details on these changes, please refer to the user manuals for the Admin, Supervisor, and ESS users here: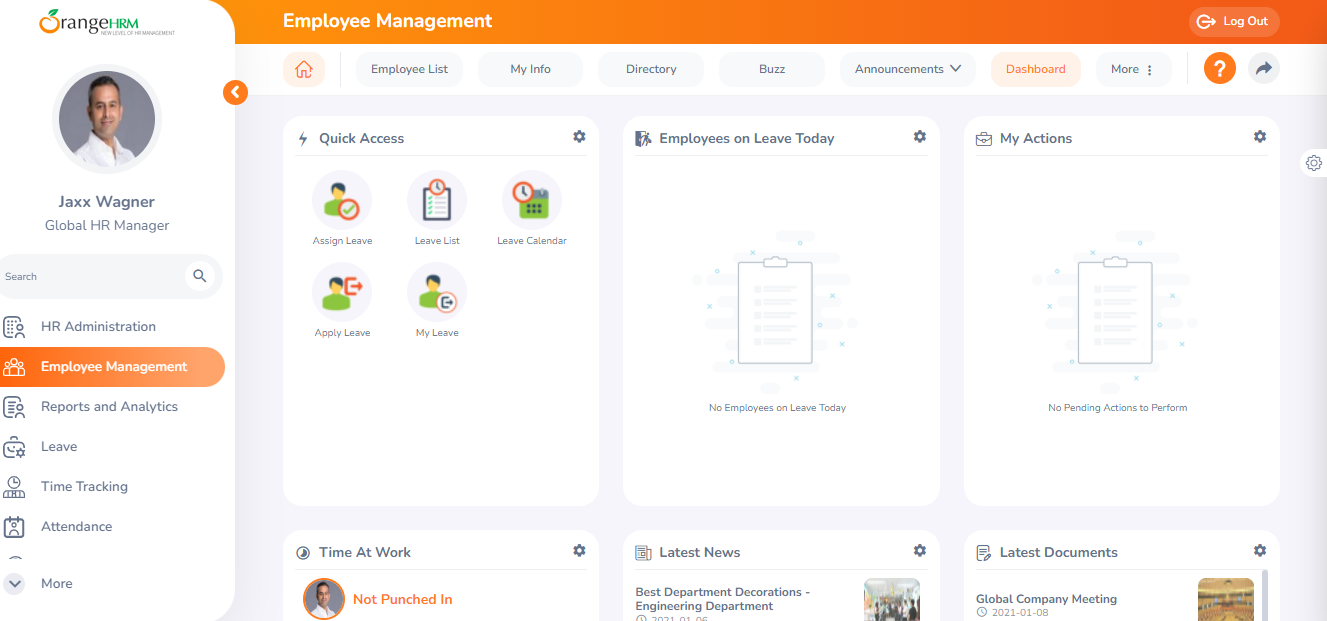 New centralized Reports and analytics view
Significant updates to the OrangeHRM Reporting feature have been implemented. In version 7.5, we have consolidated all reports within a centralized module now called the Reports and Analytics module. All the reporting capabilities are located here and are presented within each module heading, where more than 10 reports exist for a given module, you can simply click the "View All" button. When you select that button, the system will display all of the reports that are accessible for that module.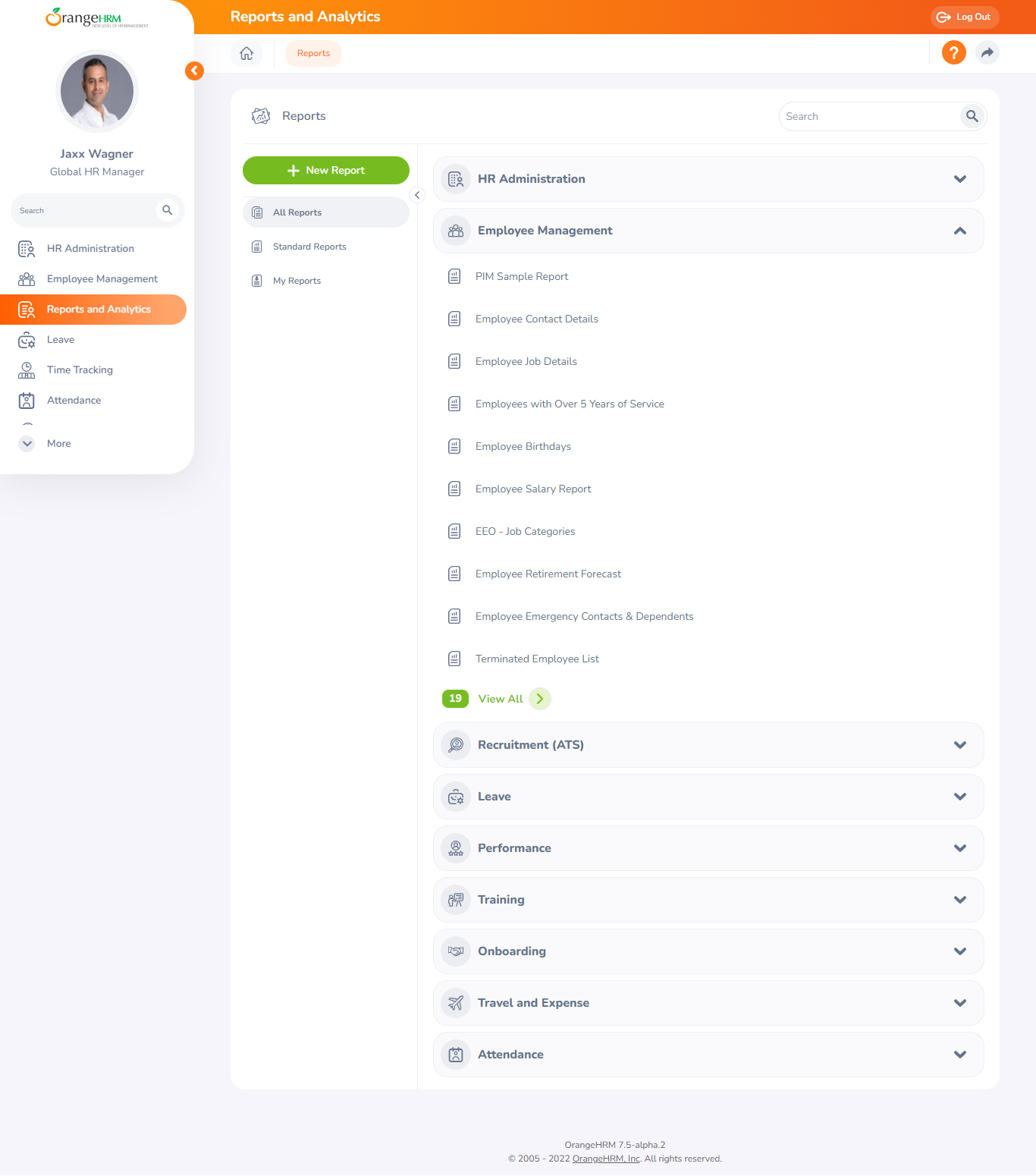 Additionally, if you have edit access to a report and wish to alter some of the fields in a report, the system now allows you to generate a new report with the modified fields that you have selected by using the "Save as" button to create a new report.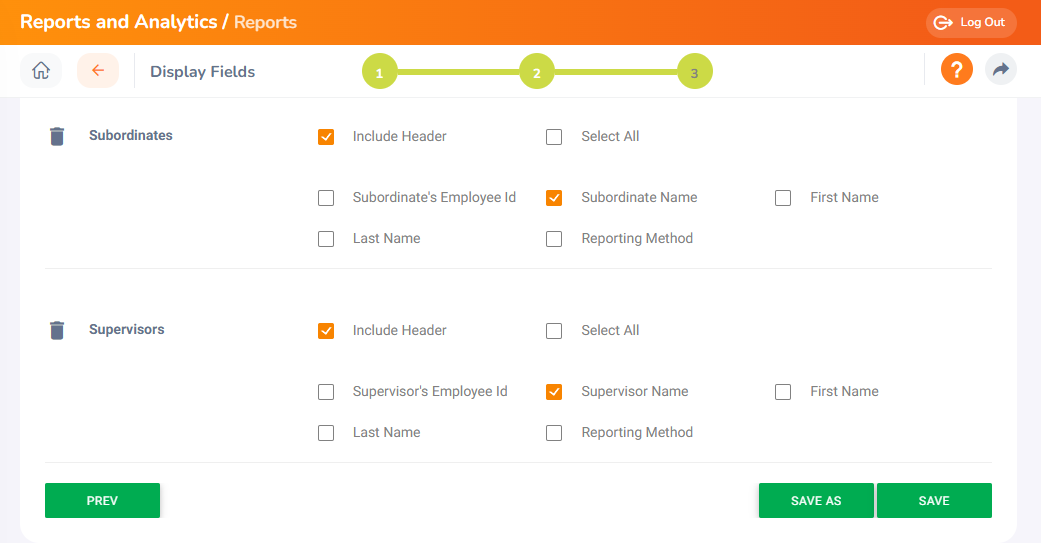 Buzz UI conversion and usability improvements
We have further revamped the Buzz interface with some additional improvements. Now you can switch to your profile as well as to the home page of Buzz. In your profile image section below, you can now see the user statistics of the number of posts that you have liked, commented on, and shared.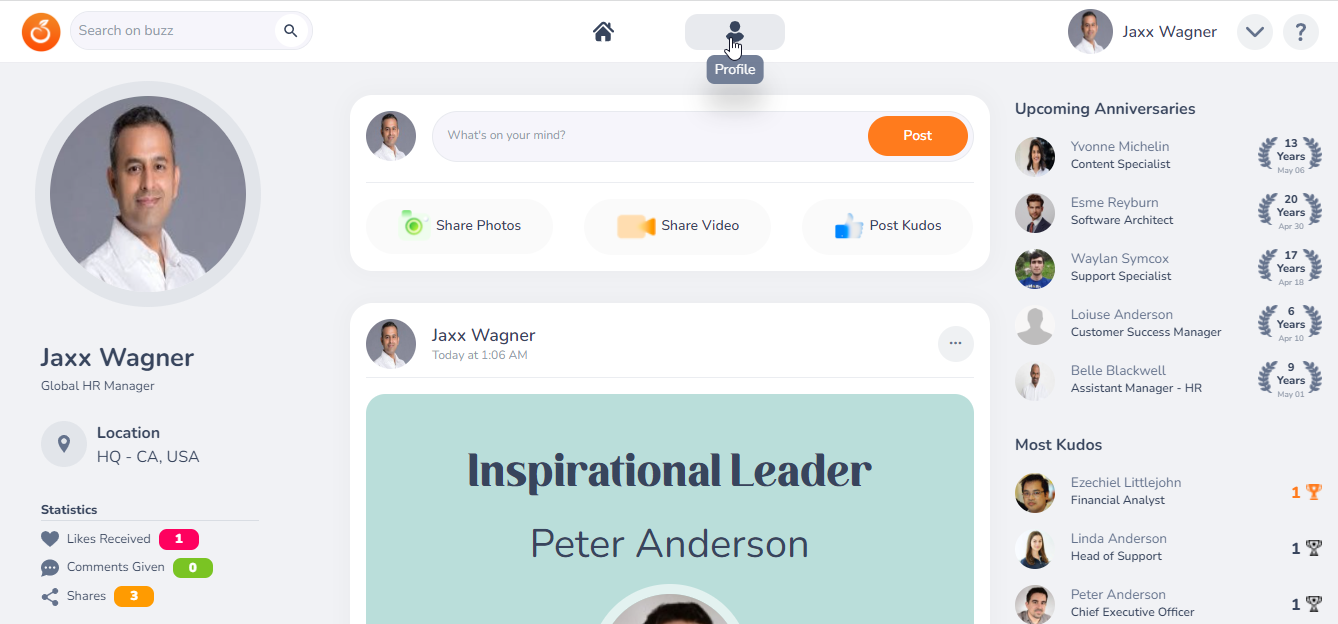 When uploading pictures, you may also add up to five images to make your post more interesting, and should you wish to delete any photos when uploading to buzz you can simply click the delete icon in the right side corner of the image.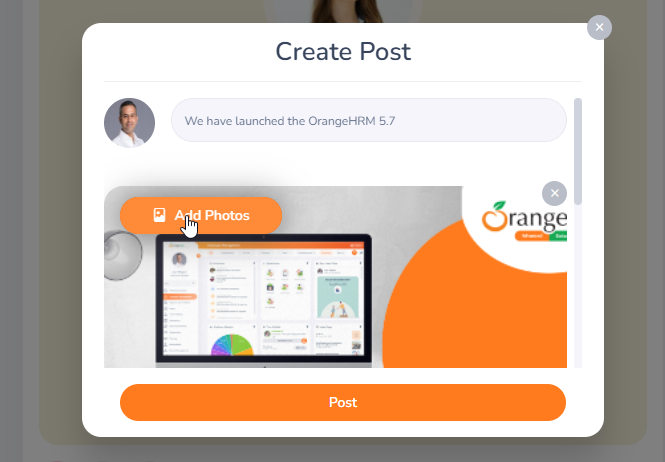 You can log out of Buzz by clicking the down arrow, as indicated in the figure below. You may also click the Help symbol, which is displayed below if you need any assistance in understanding how the buzz function works.