Refer to this article if your version is above 7.4.1
OrangeHRM can now be configured with a set of pay policy rules to enable the automatic calculation of overtime and double-time to produce a pay hour report based on timesheet data. OrangeHRM can work with clients to configure different rules for pay hour reports.
Pay Policy can be defined based on the following factors.
1. Employment Status.
You can enter any number of employment status to the pay policy rules.
2. Location
If a location has a specific active pay policy, then it gets precedence to the default pay policy that is applied to all the employees in that location.
When an employee saves a timesheet for the first time, pay hours are calculated based on the total duration entered for the day by the rules defined in the pay policy (either default one or based on location) and the employee status defined in the rule.
Pay Hours Report can be generated by filtering based on Employee or Time Period.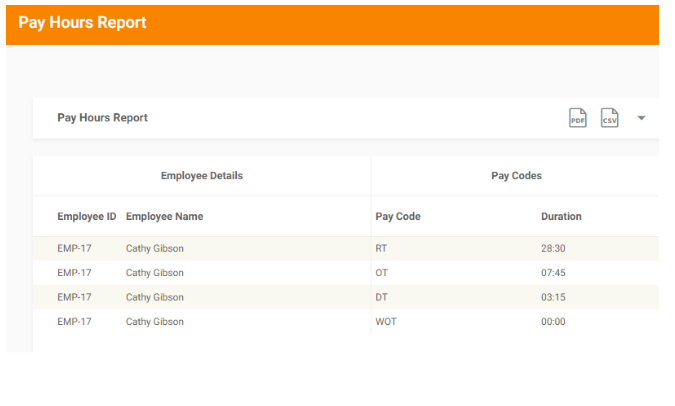 The following diagram shows how pay hours are calculated.
Day

Time Spent

Regular Time

Over Time

Double Time

Monday

8:00

8:00

0:00

0:00

Tuesday

7:00

7:00

0:00

0:00

Wednesday

9:45

8:00

1:45

0:00

Thursday

7:15

7:15

0:00

0:00

Friday

14:15

8:00

4:00

2:15

Saturday

10:00

8:00

2:00

0:00

Sunday

6:00

0:00

6:00

0:00

Total

46:15 (40:00)

13:45

2:15

Weekly Over Time

6:15 (Total minus 40 hours)