How to Create User Roles [Video]
OrangeHRM allows the capability to create user roles by allowing different access levels for the system. There are three pre-defined user roles available in OrangeHRM as follows
Global / Default Admin: has access to all the modules in the system and can view/access all employees information within the system working in different locations/regions of the organization (Regional access configuration is only available in OrangeHRM Enterprise)
Default ESS: where the user has access only to his/her information.
Default Supervisor: where the user has access to his/her particulars and his/her subordinates' particulars
By Default, the accessibility privileges are already configured for the Default Supervisor and Default ESS roles
Default user role - Supervisor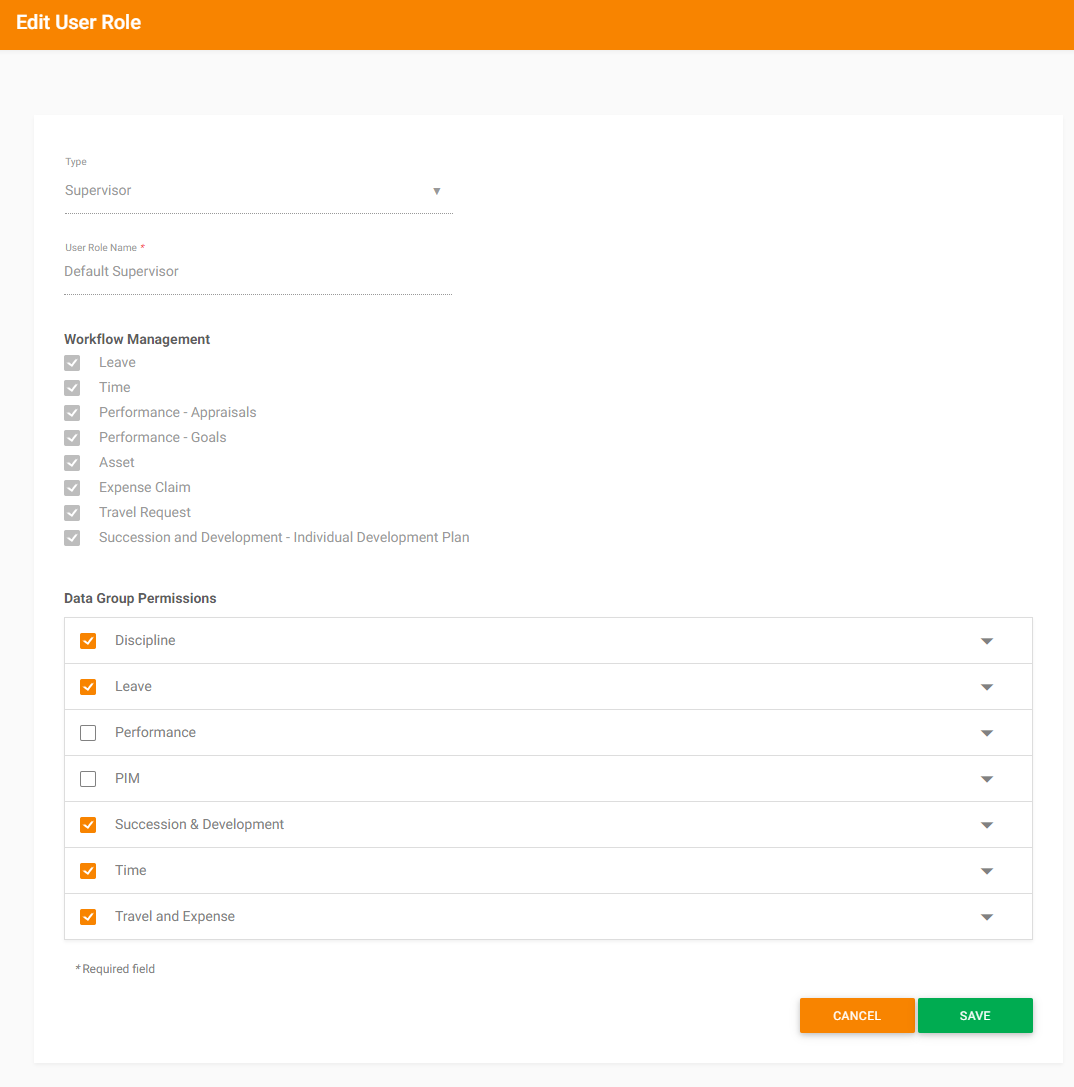 Default user role - ESS
If the user needs to change the data group permission, only Global Admins are able to change the data group permission of "Default ESS" and "Default Supervisor" roles. The workflow permissions are not editable for the default user roles.
Refer how to add supervisor/subordinator How to add/remove supervisors/subordinates
In addition to these user roles, it is possible to create custom user roles.
The User Roles section allows for the Global Admin to create custom user roles with configurable privileges and rights to access and manage employee data across the various modules (Admin, Advanced Traning, Asset, Discipline, Leave, Onboarding, Performance, PIM, Recruitment, Report Catalog, Succession & Development, Time, Travel and Expense) manage the workflows of various processes in the organization, and assign these User Roles to specific regions.
The Default ESS, Default Supervisor, and Global Admin user role types, privileges can not be changed. In order for a user role to have custom privileges, a new custom ESS, Supervisor, or Admin user role must be created via the Add User Role page.
To view the User Role list, go to Admin > User Management > User Roles from the Main Menu. Then the User Roles page will appear.

Add User Role
Custom user roles are created based on the default user roles available. To add a custom user role;
Step 1 – Click on the 'Add' button on the user roles page. Then the Add User Role screen will appear.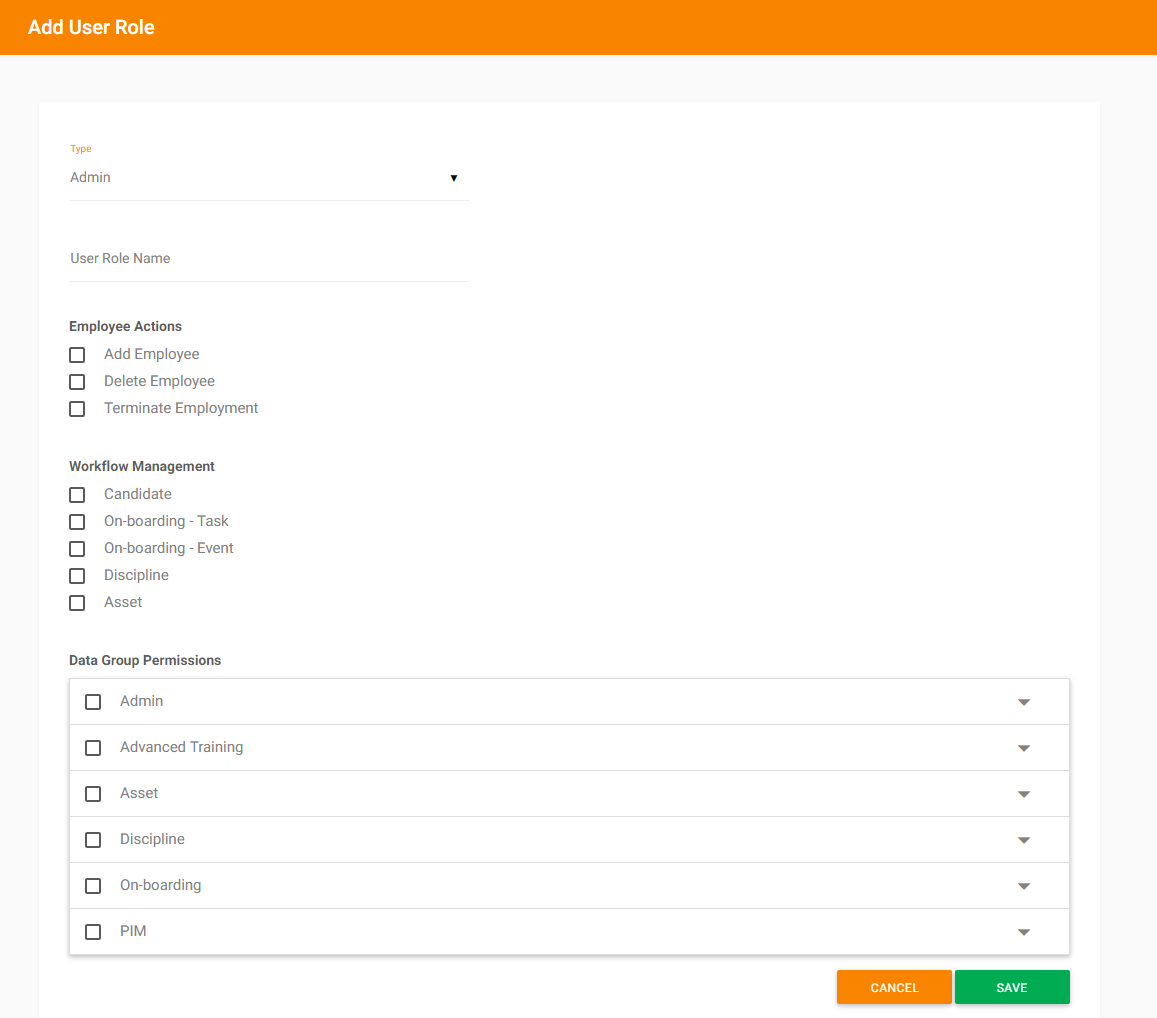 Step 2 – Select the type of user role you want to create. (Admin, ESS, Supervisor)
Fill the options in the form depending on your selection.
Step 3 – Complete the following fields.
| | |
| --- | --- |
| Field | Description |
| User Role name | Desired same for the new user role |
| Add Employee | Allows user to add employees to the system |
| Delete Employee | Allows user to delete employees from the system |
| Terminate employee | Allows to terminate employees |
| Workflow Management | Select the workflow management options the user should be privileged to. Workflow management refers to the admin privileges related to actions in the system. Ex: usually the supervisor has to approve a leave request. But an admin user with privileged to 'Leave workflow' can approve the request as well. |
Step 4 – Select Data Group Permissions. Click each category to expand. You can decide the level of permission. In the screenshot above, the user role is configured so that the user can only view it in the Asset Tracker. The user will not be able to Add, Delete or Edit data in the plugin.
Step 5 – Click 'Save.'